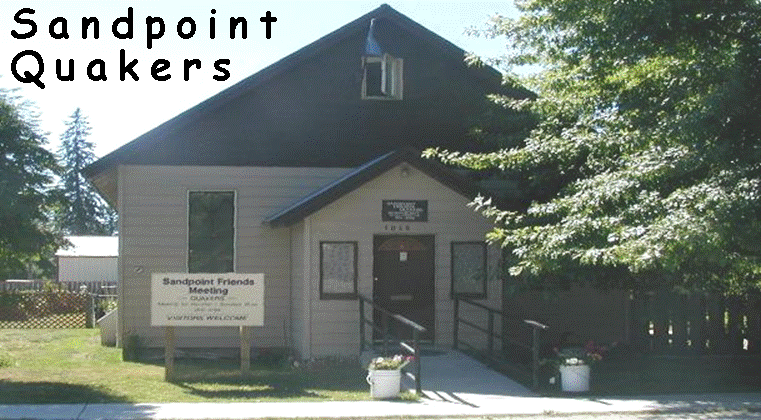 Introduction
Sandpoint Friends Meeting gathers in our Friends Meetinghouse at 1025 Alder Street.
We have Meeting for Worship on Sundays, with discussion, educational programs, potlucks, or Meeting for Business following most meetings. We may also have committee meetings some afternoons or evenings.
Ask for the current copy of our newsletter, or to be included in the newsletter mailing list to stay informed of our activities and schedule.
Background
Quakers, or more formally, The Religious Society of Friends, is a small but active religion begun in England about 400 years ago by George Fox, as a reaction against the state church authority. Fox's belief was that each person has as much access or connection to God as a priest does, and no special person or "authority" is needed to define what each is to believe. Sunday meetings were held on the basis of silence, during which any member might minister.
The term "Quaker" started as slang by outside observers who saw the silent meeting as sitting in fear or awe of God, or "quake-ing". "Quaker" is now a general term, and several different branches or varieties of Friends consider themselves to be "Quaker". Other branches may have a more traditional church with music, a paid minister, a structured program every week, and more of a fundamentalist view. They often are called a "Friend's Church". Sandpoint Friends Meeting is the "un-programmed" variety of Quakers, with no hired minister and no program in our silent Sunday Meeting for Worship. Nevertheless, it is by no means devoid of meaning or message. The meaning lies in deeper principle, without rigid dogma and with no creed or mythology. There is a diverse range of people in our Quaker Meeting, most often  liberal or universalist in perspective, rather than fundamentalist.
Quakers emphasize integrity, so that our lives are lived in consistency with our values. We hold our beliefs seriously and do not separate them from any aspect of life. Beliefs and behavior for Sunday are no different from our scientific beliefs and our workday behavior. There is a saying "Let your life speak" meaning that your values show in your life story, rather than just in your words.
We seek the truth together and individually, with open mind, and find that love, and its corollary, the Golden Rule is the basic will of God, expressed in the message of Jesus (among many other sources).
Emphasis in Quaker spiritual life is on service rather than salvation. There is little talk of heaven and hell among Friends, or of sin and salvation. It is love of the values, rather than fear of authority, that motivates. For example we recognize "that of God" in everyone, and therefore respect the sanctity of life. We are known for efforts to prevent and oppose all kinds of violence, including warfare and other state-sanctioned violence such as the death penalty. We work nationally and internationally to eliminate the causes of war, and most Quakers will not participate in the violence of war.
Friends have traditionally been a leader among churches in confronting issues squarely on moral grounds, such as the Quaker's role in the fight against slavery before the Civil War. The American Friends Service Committee is well known for its humanitarian work worldwide, and received the Nobel Peace Prize in 1947. Work and service are as much a form of worship as the silent meetings for which we are best known.