6/22/2022, Minute in support of Pride in the Park event held by North Idaho Pride Alliance 6/11/2022
The Sandpoint (Idaho) Monthly Meeting of the Religious Society of Friends (Quakers) shares this statement of support and solidarity with all LGBTQIA+ people, following arrests of 31 people police labeled "white nationalists," allegedly planning to disrupt the Pride in the Park event held by North Idaho Pride Alliance in Coeur d'Alene, June 11, 2022.
We affirm not just the legal and civil right of the CDA4Pride participants to assemble in mutual support, but also their moral right and their courage to do so, to raise up the struggle against injustice, discrimination and "othering."
We deplore the intentions of the people arrested. We acknowledge the painful depth to which social media and politics are promoting racism and fear of difference over inclusion and equality. We affirm our belief that the divine and sacred is in every person and all have the ability to be led by that Spirit.
We encourage those arrested and their supporters to open themselves to the inner truth that we are all equal in Spirit, that messages of hate and oppression degrade our humanity, that we do have the Power within us to love one another.
We know that a better world is possible, that indeed we are blessed with the abilities to bring that world into being. Let us set aside all fear and hostility towards differences, attitudes that undermine what we could achieve together. Pride in the Park was a step in that direction and we value that work and thank those who do it.
~~~~~~~~~~~~~~~~~~~~~~~
Sunday, November 29, 2015, Daily Bee Article on Refugees:
Sandpoint Friends Meeting (Quakers) grieves for all of those killed and injured in the recent spate of violence, from the downing of the Russian airliner over Egypt to the horrific attacks in Lebanon, France, and Mali.
It is natural to feel afraid in the face of such events. If we act out of this fear, however, our response may lead to more violence and may sacrifice the core values and freedoms that we Americans cherish.
Some of our elected officials, including our sheriff, governor, and Congressional representatives, recently called upon the federal government to close our borders to refugees from Syria and Iraq. This response runs counter to our vision of the United States as a beacon of hope for all those fleeing tyranny and terrorism.
We urge our elected officials to not use religious or ethnic backgrounds as reasons to slow the established process for vetting refugees which is the most extensive for any foreigner entering the United States. In addition, we ask Congress to work to end the conflicts across the Middle East which give rise to violent extremists.
We seek that of God in all people. As we struggle with our fears, we choose to reach out in love and compassion to all people who are seeking refuge from violent conflict. Even France, after the Paris attacks, remains committed to accept another 30,000 Syrian refugees. We choose to offer refugees welcome and hope for a better future for themselves and their children. We do not want to say to them, "There is no room in the inn."
To paraphrase William Penn, let us now try what love can do to mend a broken world.
Steve Willey, Elizabeth Willey, Linda Navarre, and Nancy Renk, Co-Clerks of Sandpoint Friends Meeting
A few links for those seeking additional information:
~~~~~~~~~~~~~~~~~~~~~~~
Join Friends to Renew Commitment to Peace
Sunday, September 11, 2011, Daily Bee Article.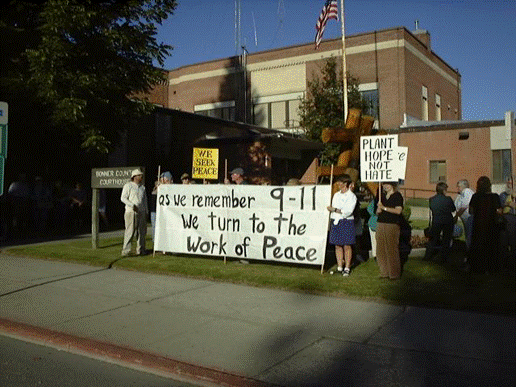 On the poignant tenth anniversary of 9/11, the Sandpoint Friends Meeting (Quakers) feels compelled to ask if this continuing aftermath is the direction we choose. We call for a renewed commitment to a peaceful and just society.
Our country has been waging war for the past 10 years at a total cost of $1.25 trillion thus far. But what is the true cost? Thousands of soldiers have died and many times more have been grievously wounded in body and soul. Tens of thousands of civilians have been killed in Afghanistan, Iraq and Pakistan. Our politicians fight amongst themselves and our citizens live in fear of those who look, speak, or think differently. Our present military budget is equal to that of all the rest of the world combined. Is this the world we seek?
Believing that war is not the answer, it seems time to reappraise the direction of our country. Friends urge a fundamental shift from war to peace with ending of occupations in Iraq and Afghanistan. If our military force and its enormous budget are redirected to constructively rebuilding our country and our world, we will create an environment where every person's potential may be fulfilled. Now is the time to work toward this goal, to change our collective mindset to one of understanding, cooperation, and compassion.
Sandpoint Friends Meeting welcomes visitors to join us today, Sept. 11, at 10 a.m. for an hour of silent worship at 1025 Alder St., Sandpoint, followed by snacks and discussion.
ELIZABETH WILLEY and NANCY RENK